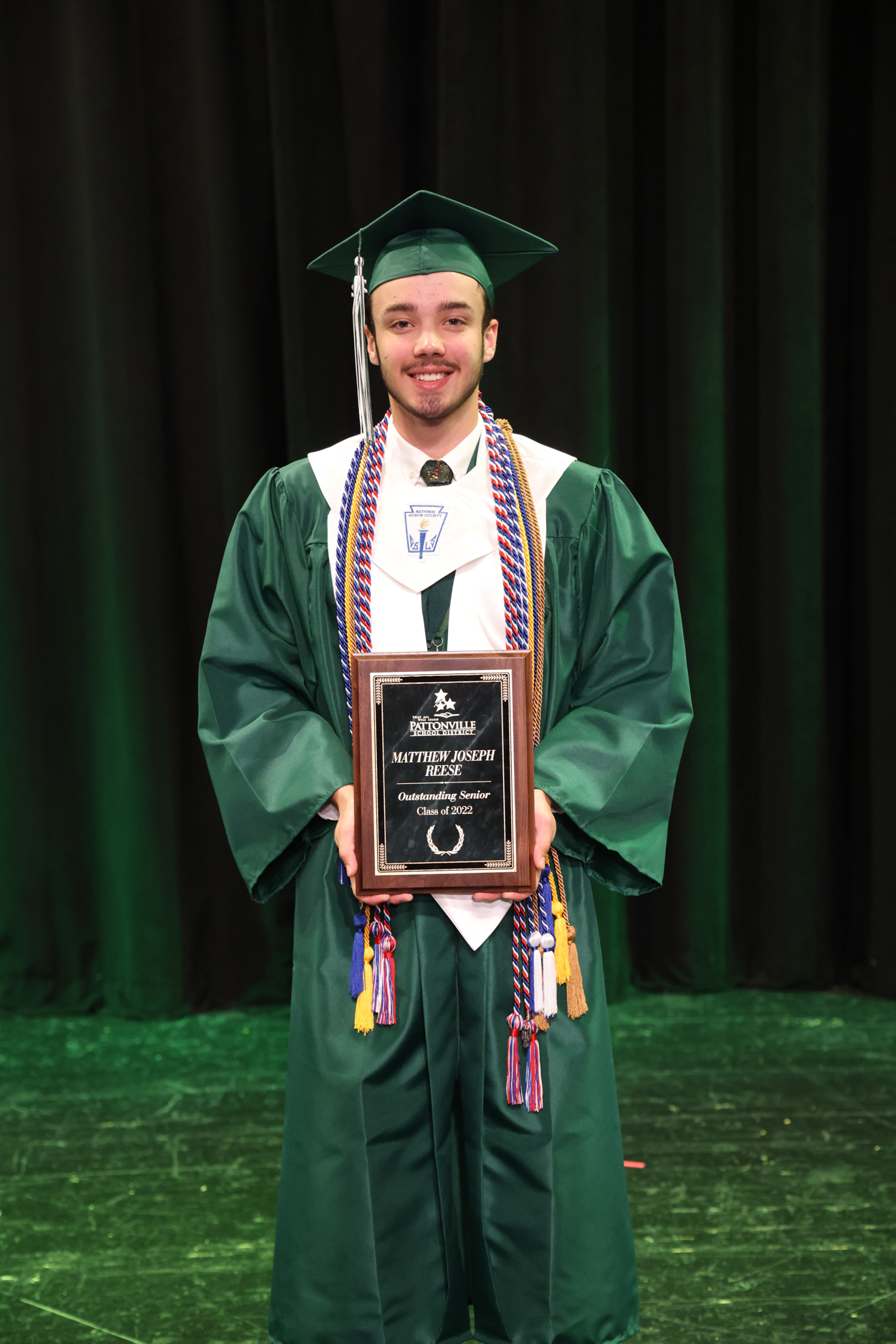 Pattonville High School senior Matthew Reese was named the Outstanding Senior for the Class of 2022. The Outstanding Senior is chosen each year from teacher nominations. 
The high school also honored several seniors with Outstanding Senior Departmental Awards and other special recognitions. Each department recognizes one student who has shown outstanding academic achievement, leadership and citizenship. 
This year's Outstanding Senior Departmental Award winners are:
Charley Bennight, art, mathematics and social studies; Lana Berry, theatre; Justin Bowers, English language arts and technology and engineering; Delani DeCarlo, health sciences; Bryant Ewing, speech and debate; Alyssa Koller, band; Isaiah LoParco, physical education; Elly Lu, orchestra; Lindsey Meyer, modern language (German); Yassine Ndiaye, English learner; Brennan Pritchett, skilled technical sciences; Hannah Radican, vocal music; Katie Ridings, Echo yearbook; Kalista Roades, community service; Alison Skelton, modern language (French); Jessie Stark, modern language (Spanish); Meredith Stroud, family and consumer science; Malik Taylor, business; Orney Walker IV, production technology arts (Pirate TV); and Keilah Wilkes, science.
The following students were also recognized with special awards: Anthony King, Thomas Frick Service Award; Keilah Wilkes, St. Louis Post-Dispatch Scholar Athlete; and Justin Bowers and Lindsey Meyer, Missouri State High School Activities Association (MSHSAA) Award of Excellence.
Special community scholarships were presented to recipients on stage followed by students being recognized with academic and achievement awards.
View a photo gallery from Senior Awards Night: https://pattonvillesd.smugmug.com/2021-2022/2022-Senior-Awards-Night/
View the Outstanding Senior Departmental Awards slideshow: https://pattonvillesd.smugmug.com/2021-2022/Senior-Awards/