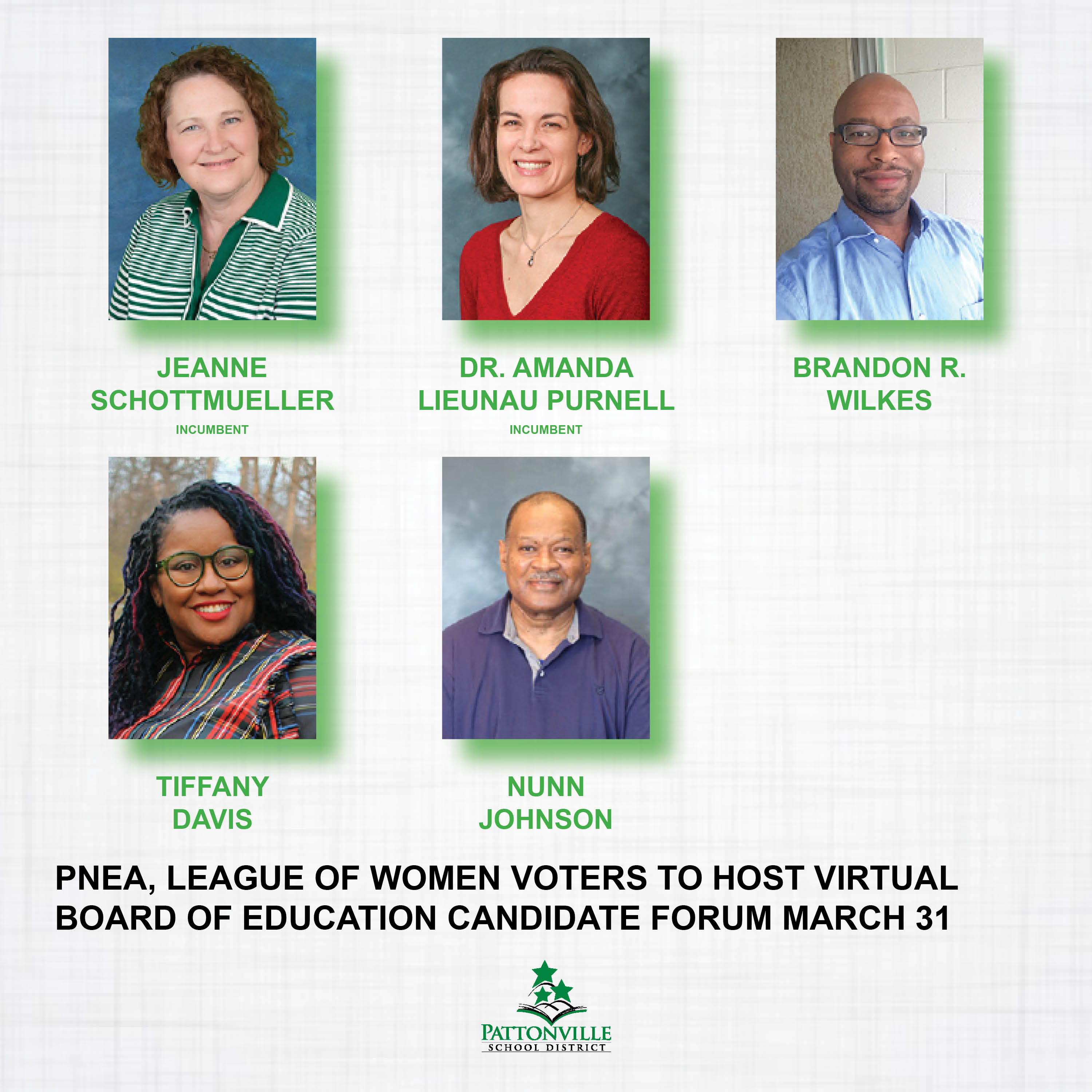 The Pattonville National Education Association (PNEA) and the League of Women Voters of St. Louis will host a virtual board candidate forum on Wednesday, March 31 at 6:30 p.m. featuring candidates for the Pattonville School District Board of Education. The public is invited to attend this free forum.
During the candidate forum, school board candidates will be given an opportunity to speak and answer questions posed by a moderator from the League of Women Voters using questions submitted by community members in advance. Questions must be addressed to all of the candidates and can be submitted by Monday, March 29 at the following link: https://forms.gle/bYkeWcua7ZEfYwSR6. The League of Women Voters will review all submitted questions prior to the forum.
The candidate forum will take place on Wednesday, March 31 live via Zoom. To watch, please click on the following link at the time of the meeting: https://mnea-org.zoom.us/j/81899430433?pwd=WU9RVU5iMVJmMk5OdE5TenhreWc3dz09. 
Six candidates filed to be placed on the April 6 election ballot to fill two open seats on Pattonville Board of Education, however one of the six candidates has since decided that she no longer wishes to be elected to office. Those who filed for the board, in order of filing, are incumbents Jeanne Schottmueller and Dr. Amanda Lieunau Purnell, Brandon R. Wilkes, Tiffany Davis, Nunn Johnson and Monyelle Dotson. Dotson, in a statement to Pattonville, said she no longer wished to be considered for the board, however due to the timing of the election, her name will still appear on the ballot. To find more information about the candidates and read Dotson's statement, please visit the following link: www.psdr3.org/news/80-district/409-six-residents-file-for-open-seats-on-pattonville-school-board.