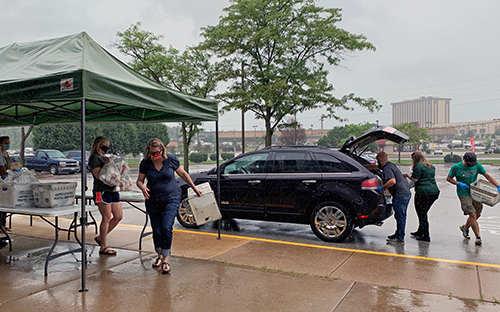 Starting next Wednesday, July 15, Pattonville's free curbside meal distribution for students will change to one location. A week's worth of meals will be distributed from 11 a.m. to 1 p.m. each Wednesday at the Pattonville Learning Center until further notice. Pattonville High School will no longer serve as a site for meal pick up.
Pattonville will offer meal boxes from Operation Food Search that contain shelf-stable meals, as well as boxes of fresh produce. The meal service is open to all children 18 years of age and under. No ID or paperwork is required to participate. The program is designed to ensure students have access to healthy meals while school is not in session.
 When arriving by car please:
Write the number of children you are picking up meals for on a large sheet of paper and place on your dashboard.  
Stay inside your vehicle and open your trunk to allow volunteers to place the bags directly inside and allow you to keep moving.  
If opening your trunk is not possible and there is no other unoccupied space in your vehicle, you will need to get out of your vehicle and pick up the meals from a curbside table while maintaining six feet distance from others.  
If you walk to one of the sites, our volunteers will help you while maintaining the six-foot social distancing requirement.