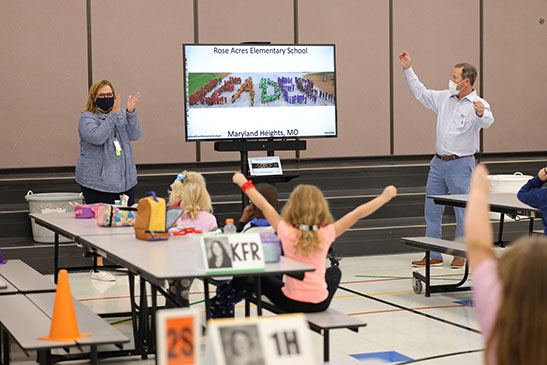 Rose Acres Elementary School has been named a 2020 National Blue Ribbon School by the U.S. Department of Education. Rose Acres was one of only seven schools in the state of Missouri to receive this honor and the only elementary school in St. Louis County. The National Blue Ribbon Schools program recognizes public and private elementary, middle and high schools based on their overall academic excellence or their progress in closing achievement gaps among student subgroups. Rose Acres and the other recognized Missouri schools all met the criteria for Exemplary High Performing Schools, which means they are among their state's highest performing schools as measured by state assessments or nationally normed tests. Only 367 schools across the U.S. were recognized this year as a National Blue Ribbon School.
Rose Acres is the first Pattonville school to be recognized as a Blue Ribbon School since 1993. Previous honorees include Pattonville Heights Middle School in 1984, Holman Middle School in 1985 and Pattonville High School in 1993. Rose Acres received the award after earning the Missouri Gold Star School for 2020 earlier this summer. The Missouri Department of Elementary and Secondary Education (DESE) Gold Star School program uses the same criteria as the National Blue Ribbon Schools program.
"This award would not have been possible without the staff and students' focus with academics and leadership," principal Steve Vargo said. "Rose Acres Elementary has traditionally been a strong learning community for many years and this award is a result of that. We share this award with our parents who always support the learning process."
"Congratulations to this year's National Blue Ribbon School awardees," said U.S. Secretary  of Education Betsy DeVos. "It's a privilege to recognize the extraordinary work you do to meet students' needs and prepare them for successful careers and meaningful lives." 
Missouri schools honored with the National Blue Ribbon Schools and Missouri Gold Star awards for 2020 include:
Clayton High School, Clayton School District
Festus Elementary, Festus R-VI School District
Francis Howell High School, Francis Howell R-III School District
Lincoln Elementary, St. Charles R-VI School District
Rose Acres Elementary, Pattonville R-III School District
Sunny Pointe Elementary, Blue Springs R-IV School District
West Elementary, Ozark R-VI School District
View the video of Principal Vargo making the announcement