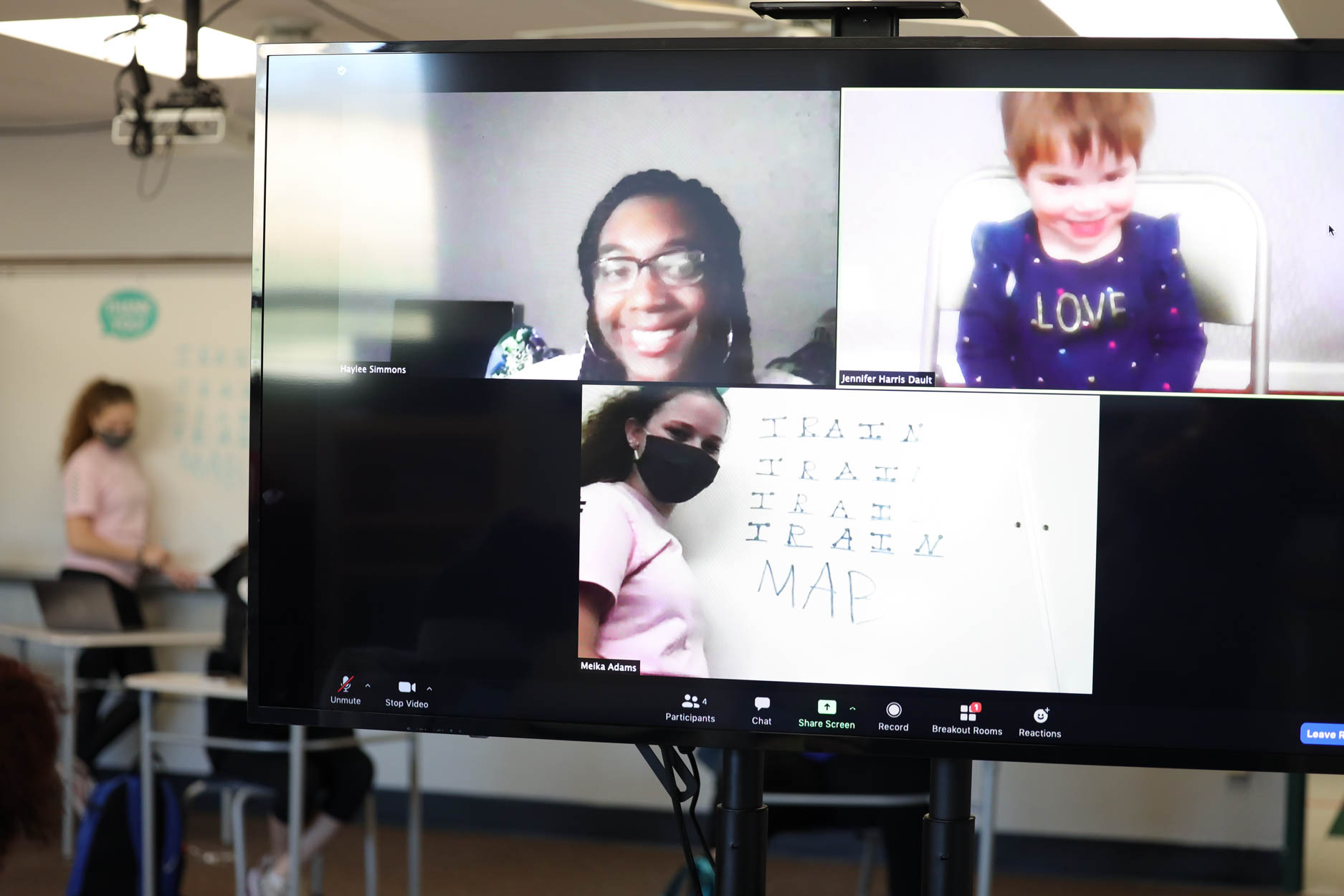 The Child Development playschool program is marking its 50th year at Pattonville High School and teachers in the family and consumer sciences department are running it like never before. 
"This year, obviously, we are unable to conduct the on-site playschool learning lab," Ms. Susan Saputo said. "Ms. Tracie Olson and I didn't want the program to have a year-long interruption, so we have had what we call 'Playschool@Home.'"
This fall, they enlisted the participation of 13 children between the ages of 3 to 5 years old and their parents to be enrolled in their first-ever virtual playschool class. All of the preschoolers were given activities made by students in Child Development 1 to do at home at their own pace and met with the high schoolers in Child Development 2 for virtual learning.
"My Child Development 2 students were assigned a child to Zoom with twice weekly," Saputo said. "They made an introductory video and formed questions for parents to provide feedback concerning their child. They then created individual lesson plans for each Zoom meeting."
Sophomore Meika Adams saw a lot of progress with her student, 3½-year-old Madeleine, and said it was really gratifying watching her skills grow.
"Every time we met, we were able to build on to the lessons we already did," she said. "We started with just what a letter looks like, but now we're working on letter sounds."
She and her partner, sophomore Haylee Simmons, tried to make every virtual lesson engaging. 
"You just have to try and step it up and make your voice sound more exciting and just be really active like making a lot of arm movements," Adams said. "One time, we actually didn't really have the greatest lesson put together, but it was OK, and I said, 'You know what? Let's just have a dance break.'"
A break from the normal is what Simmons likes about the class. As a Villemade learner, she considered Child Development II one of her favorite classes. 
"It's more fun for me because I'm more active in it and I can talk more and get to work with our student," she said.
Saputo noticed both preschoolers and the high school students are kind of hungry for being with each other. 
"I had a girl in one of my classes who noticed when we're all together on a Zoom call before going into breakout rooms that the children are really looking at each other and she suggested having a Fall Party where we're all together instead."
On the day before Halloween, the preschoolers were encouraged to wear a costume and Saputo read a book and they sang songs together.
"We also went around and I asked them questions or they would tell us about their costume and pumpkin and it really got them talking as a group just like what we would do together in the classroom," she said. 
High schoolers that take Child Development II coupled with Child Development I can earn a college credit component through the University of Missouri-St. Louis (UMSL) education department. Students who are interested in education, adolescent counseling or social work, and pediatric healthcare are encouraged to enroll in these courses. 
If parents want to enroll their preschoolers in the free program, they should contact high school FACS teacher Tracie Olson at This email address is being protected from spambots. You need JavaScript enabled to view it..