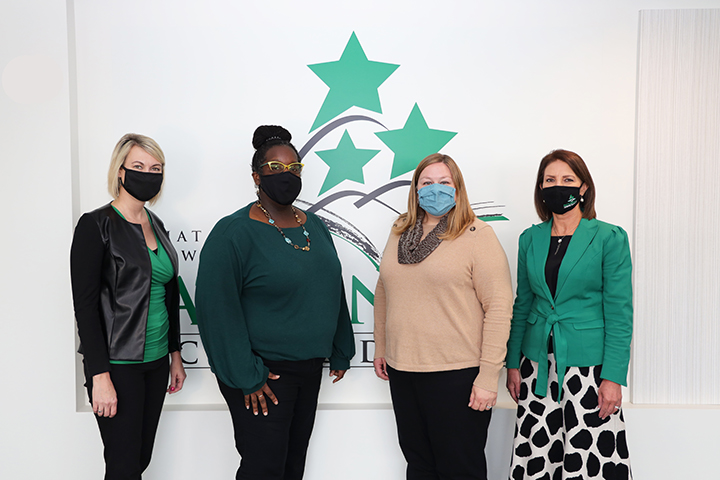 The administrative team behind Pattonville's Pirate Academy was chosen to receive the 2021 Trailblazer Spirit Leader Award by the Institute for Personalized Learning. The Pattonville team was selected based on their dedication to personalized learning and for embodying the "Trailblazer Spirit." The administrative team for the Pirate Academy at Holman Middle School includes Holman principal Dr. Sarah Moran, assistant superintendent for teaching and learning Dr. Tina Plummer, director of innovation and life readiness Odetta Smith and director of secondary education Dr. Cara Hiripitiyage. The team was nominated by Maegan Bowersox, who teaches in the Pirate Academy alongside fellow teacher Emily Difani.
Founded in 2015, the Trailblazer Award is given annually to educators who have shown resilience and courage in forging a path for others in personalized learning. In recognition of the fact that trailblazing is different for administrators versus classroom teachers, awards are given in two categories: leader and practitioner. Individuals and groups are nominated by colleagues who believe that the nominees :
Understand the need for transformational changes to learning and teaching;
Take risks and question assumptions;
Advocate for personalized learning as the prevailing approach to educating youth;
Forge the path for others to follow;
Act as a scout of new strategies and practices for peers, supervisors, and supervisees;
Share learning with others in their network to benefit all; and
Inspire hope, commitment, and passion in educators and learners.
"The Trailblazer Award not only celebrates educators who are exceptional champions for student-centered learning, it also recognizes the impact that these individuals have on the lives of countless learners in their classrooms and district," said Dr. Brenda Vogds, director of the Institute for Personalized Learning. "It is my honor to congratulate this year's honorees on their contributions to the educational community."
The Trailblazer Award was presented on April 27 during a ceremony held via Zoom as part of the Institute's 11th annual Convening on Personalized Learning.
Pattonville's Pirate Academy enables Holman sixth graders to learn core subjects (English language arts, math, science and social studies) in a way that provides students personal choice in how they learn and demonstrate they have mastered key concepts and skills. On the Pirate Academy team, students learn their core subjects through projects that blend the subject areas together. The academy provides students with needed 21st century skills like initiative, productivity, creativity, collaboration, and perseverance through the use of pacing and student voice. Block scheduling allows teachers to flex their teaching time so they can work with learners to get to the heart of what they know, what they need to know and how to get there. The Pirate Academy team is intentional about not giving up until students have mastered every learning target, because they believe that reassessment may be the most impactful part of the process. They are shifting the paradigm from the belief that learning is something students do for their teacher, to something they do for themselves.