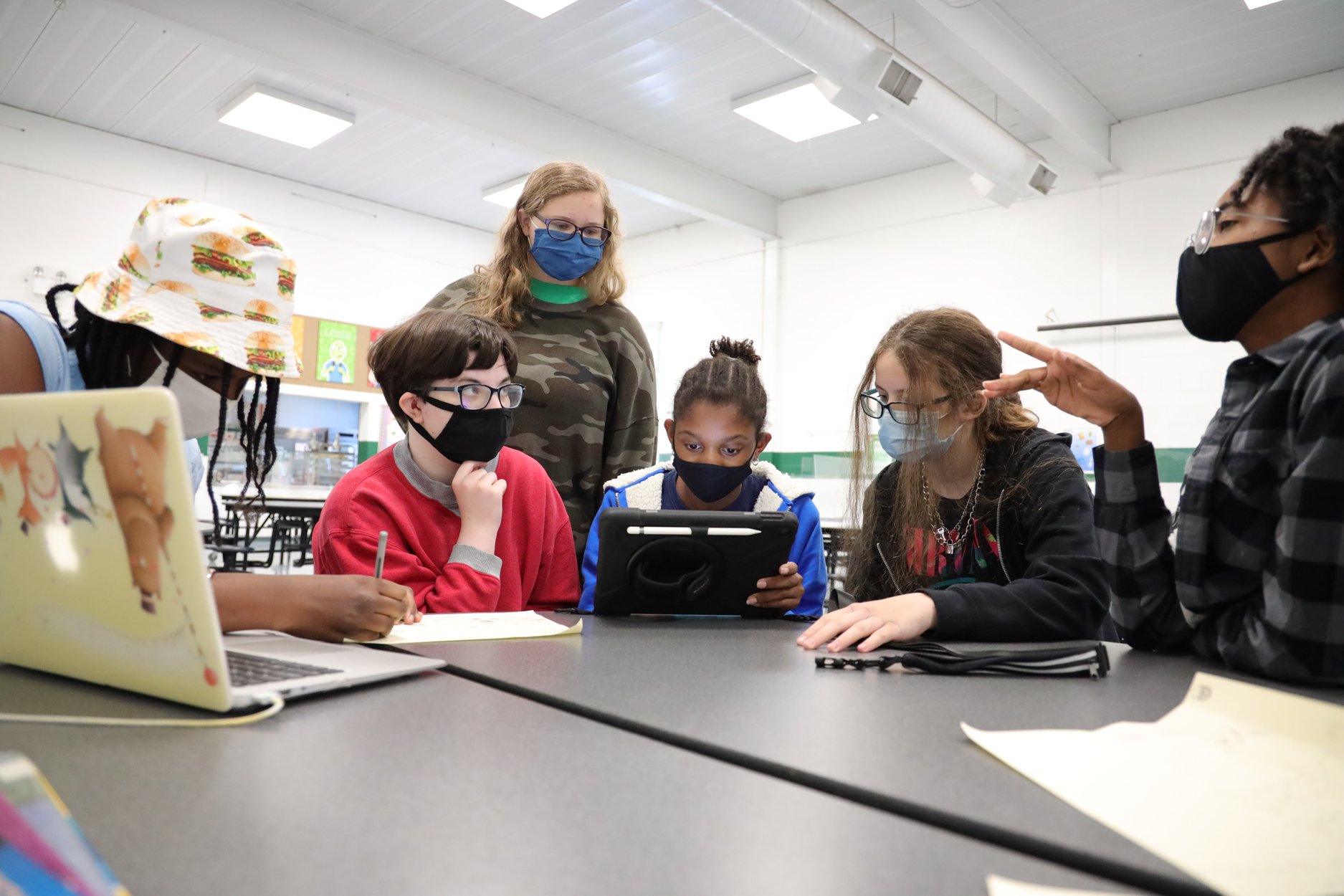 The 14th Annual Area-Wide Middle School Book Battle was held this morning. Teams from Holman, Pattonville Heights and Remington Traditional competed with 21 other schools. The event also featured three different author visits. 
Click here for the full photo gallery 
The Area-Wide Middle School Book Battle gives middle school students the opportunity to meet and discuss current books of interest. The Area-Wide Book Battle Committee creates a list of books that includes a variety of genres and reading levels. The committee develops questions for each book that are formatted so each answer is the title and author of a book on the list. Some of the questions are fairly obvious, while others require a deeper understanding of the book. In addition, trivia rounds and tiebreaker questions require team members to provide details from the books. All questions are kept securely at Remington Traditional School throughout the book battle process and only members of the Area-Wide Book Battle Committee have access to them with Remington Traditional committee members selecting the final questions.
Students are encouraged to create teams to read and discuss the books contained on the list. If necessary, schools may conduct semi-final rounds to select their final team. The top team from each middle school will compete virtually against teams from other districts in the Annual Area-Wide Middle School Book Battle.
The student team members this year from Pattonville were: 
Holman: Addison Gutschenritter, ReeseJackson, Matthew Cutrell, Elisha Dukes, Prina Limbachia
Pattonville Heights: Kaylee Dyer, Sophia Hershberger, Tai Seddens, Rowan Conner, Christi Dyer, Lola Hennrich
Remington Traditional: Audrey Dallape, Bridget Cox, Bridgett Tyarks, Brandon Rutlin, Nadya Herman, Ruth Ayele, Lakshita Raja
Teams began reading and preparing for the competition in October. This year's list included 20 books: 
"24 Hours in Nowhere" by Dusti Bowling
"Amal Unbound" by Aisha Saeed
"The Blackbird Girls" by Anne Blankman
"The Blackthorn Key" by Kevin Sands
"Charlie Thorne and the Last Equation" by Stuart Gibbs
"Deep Water" by Watt Key
"The Doughnut Fix" by Jessie Janowitz
"Front Desk" by Kelly Yang
"Genesis Begins Again" by Alicia D. Williams
"Ghost Boys" by Jewell Parker Rhodes
"Impostors" by Scott Westerfeld
"Lifeboat 12" by Susan Hood
"The Miscalculations of Lightning Girl" by Stacy McAnulty
"Not If I Save You First" by Ally Carter 
"Nyxia" by Scott Reintgen
"Skyward" by Brandon Sanderson
"Squint" by Chad Morris and Shelly Brown
"Strange Birds: A Field Guide to Ruffling Feathers" by Celia C. Perez
"What Lane?" by Torrey Maldonado
"When Stars Are Scattered" by Victoria Jamieson and Omar Mohamed
Fifteen-minute virtual author visits from Chad Morris and Shelly Brown, Celia C. Perez, and Alicia D. Williams were held between rounds.