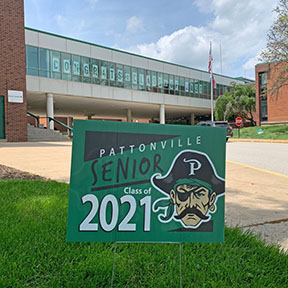 Dear Pattonville High School senior families and staff,
We are pleased to announce we are able to move our graduation ceremony for the Class of 2021 on Thursday, May 27, to our normal graduation venue, the St. Charles Family Arena. The decision to move to the Family Arena comes after consulting with the National Weather Service and county health officials. With more people being vaccinated and loosened restrictions by local and federal health officials, we felt this would be the best alternative given increasing concerns about Thursday's weather forecast. We apologize for the late notice, but are hopeful this will help with your family plans for the rest of the week. Below is important information for this Thursday:
Tickets
Each graduate will be allowed up to 8 tickets instead of the previously announced 6 due to increased capacity at Family Arena. Students received 6 tickets at graduation practice today. Those needing the additional two tickets can pick them up in the front office at PHS beginning Tuesday. (Office hours are 7 a.m. to 3:30 p.m.).
Parking
There is no longer a need to have parking shuttles. The Family Arena parking lot can accommodate all students and guests.
Ceremony Time
Due to a previously scheduled vaccine clinic at Family Arena, the ceremony will begin at 8 p.m. on Thursday, May 27, and should be done by 9:30 p.m.
Arrival
Guests and graduates enter through Gates 1, 2, 3 or 4. Graduates should arrive by 7 p.m. and be in their seats on the arena floor no later than 7:30 p.m. Doors will also be open for guests at 7 p.m. Gate 1 is the designated accessible entrance for guests with limited mobility. There will be seats blocked off in Section 107 for those who are hearing impaired. The signers at graduation will face these seats.
Health and Safety Precautions
Students and guests must wear masks or face coverings when they can't physically distance at least 6 feet from non-family members. Examples of when to wear masks would include: when entering the Family Arena, when walking in the corridors, when seated next to guests that are not family members, etc. Students may take their masks off or pull them down for photos and when walking across the stage to receive their diplomas.

Family Arena safety protocols include:

Graduates will proceed directly to the floor of the arena; there will be no graduate procession.

To eliminate the need to touch personal items during the screening procedure, bags, purses and backpacks are not allowed inside the building. Cameras and video recorders are allowed but can be the only things in a camera bag. Tripods are not allowed.

The arena concourse will flow in one direction; signs will be posted.

Graduates will be seated 6 feet apart.

Guests are prohibited from sitting in sections marked closed for social distancing.

The audience will be released section-by-section to encourage social distancing as graduates and guests exit.

The Family Arena HVAC system does not recirculate air. The arena will have entirely new air every 3 to 5 minutes.
Graduation Live Stream 
If you have family members or friends who are unable to attend the ceremony, the event can be watched online at: familyarena.com/graduations.
We look forward to celebrating our amazing Class of 2021 on Thursday and looking forward to seeing everyone there.
Sincerely,
Joe Dobrinic Tim Pecoraro
Principal Superintendent
DIRECTIONS TO THE FAMILY ARENA:
General Location:
The Family Arena is conveniently located approximately 11/4 miles south of 1-70 and the Fifth Street exit (#229 from the West; #229A from the East) in St. Charles on Arena Parkway.
From Interstate 70 West:
Take the South 5th Street exit. Continue on South 5th Street for approximately 1 mile. At Arena Parkway, turn left. The Arena will be on your left hand side, about 1/4 mile ahead.
From 364 (Page Extension):
When traveling North on Hwy 270, take 364 West to the Arena Parkway/ Upper Bottom Road exit #14. Make a right on to Arena Parkway. The Arena is one mile down on the right. When traveling North on Hwy 94 from Hwy 40/61, take 364 east to the Arena Parkway/ Upper Bottom Road exit #14. Turn left on to Arena Parkway. The Arena is one mile down on the right.