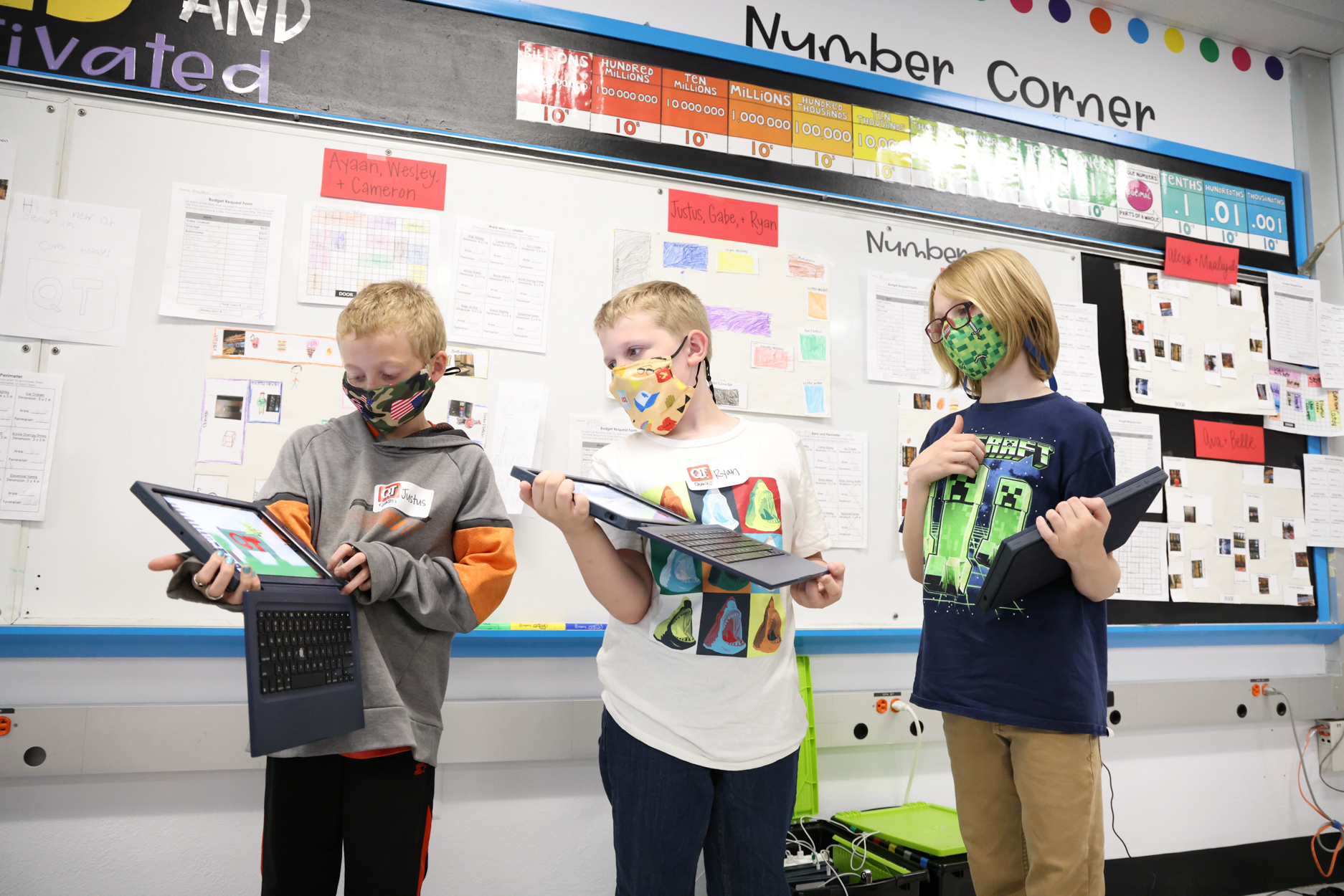 Ms. Kristen Buescher and Ms. Audrey Masek love teaching. They also love QuikTrip. They joke about it all the time with their fourth graders at Parkwood Elementary. So when they had the opportunity to include it in a lesson, they went for it. 
"The original unit has students designing and making a model of a playground," Masek said. "Instead, our students designed and made a 2D model of their own QT gas station."
Full slideshow: https://pattonvillesd.smugmug.com/2020-2021/PW-QT-PBL-Activity/
Each group was given a budget of $10,000 to spend on purchasing items they wanted to include in their store. They worked on the math concepts of addition and subtraction, graphing, and area and perimeter. 
"It was a great way to review the things we learned," Buescher said. "Some of the students were really good at the math concepts. Others were better at the spatial mapping for their layout, and then we had some that were really creative with the extra stuff like making an advertisement or recording a commercial."
Alexis Leap partnered with Maaliyah Curry on the project. 
"My favorite part about doing this was making the huge model layout of it where we decided to put each section of the store," she said.
The teachers reached out to QT corporate and received items to share with the students at the end of the project.
"Getting them involved also increased their buy-in because QT sent us a note in the package and we read it to the kids and they thought it was the coolest thing in the world because they knew our project was happening," Masek said. "I feel like that made it a lot more engaging for our kids.
Cordell Burnett Jr. created a new food item for his QT Kitchen.
"We added a different type of food and it's called the Ultimate Bread," he said. "It's kind of like a pretzel but in a different shape and there's cheese inside of it. Maybe you'll see it there one day. I think it's gonna be $5.99." 
During their class presentations, students wore QuikTrip name badges and answered questions from the teachers. Then they received a QT ice cream cone stress ball and a coupon for a free hot drink or fountain drink.  
"Every kid felt successful with this project," Masek said. "They all did an amazing job on this and it was a great way to end the school year."