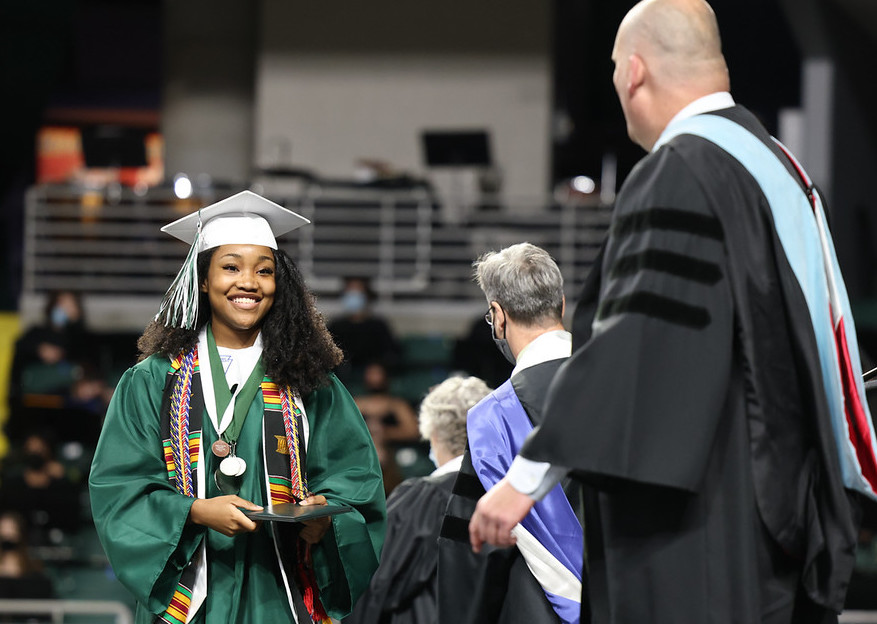 Pattonville High School senior Mya Harris was named the Outstanding Senior for the Class of 2021. The Outstanding Senior is chosen each year from teacher nominations. The high school also honored several seniors with Outstanding Senior Departmental Awards and other special recognitions. Each department recognizes one student who has shown outstanding academic achievement, leadership and citizenship. This year's Outstanding Senior Departmental Award winners are:
Maya Blumenthal, English language arts; Jade Boyd, orchestra; Camille Brown, community service; Aaron Caldwell, Pirate Sports Network; Nolan Cobbs, Thomas Frick Award; Anna Marie de Garcia, science; Julia Drake, vocal music; Daniel Enberg, band; Chandler Fajardo, skilled technical sciences; Yony Flores Avilez, English learner; Lily Holland, French; Jordyn Lodes, German and mathematics; Adrianna Marshall, art; Tajh Martin, technology and engineering; Rachel McCormick, theater; Elizabeth Mulat, Spanish; Wes Spitzmiller, physical education; Bell Tucci, speech and debate; Zora Umana, business; Jake Vitale, social studies; Britney Wallace, health sciences; Aleigha Wells, ECHO yearbook; and Sydney Wilms, family and consumer sciences.
The following students were also recognized with special awards: Kaeli Benedict, St. Louis Post-Dispatch Scholar Athlete; Benedict and Jonathan Cosby, Missouri State High School Activities Association (MSHSAA) Sportsmanship Award; and Blumenthal and Lodes, National Merit Scholarship Finalist.
View virtual senior honors presentation.
Other accomplishments of the Class of 2021:
386 students graduated in the Class of 2021
276 plan on continuing their education at four-year universities, two-year colleges or career/technical/apprenticeship programs
19 students plan to enter the military
 45 plan to enter the workforce immediately
122 earned the honors of summa, magna or cum laude (3.5 weighted GPA or greater)
81 earned A+ status, which makes them eligible for paid tuition to any Missouri community college or career education school
54 earned industry-recognized credentials or certifications such as certified nurse assistant, automotive service excellence, cosmetology, welding and construction and emergency medical technician
Seniors earned $10 million in scholarships
20 qualified to receive Missouri's Bright Flight Scholarship based on a qualifying score on the ACT (13 accepted the scholarship and will attend a Missouri post-secondary institution)
Seniors completed more than 19,700 hours of community service during high school
7 earned community service honor cords for volunteering 150 hours or more
Top three seniors for hours of community service: Camille Brown (549.5 hours), Skylar Monnig (345.5 hours) and Rachel McCormick (329 hours)