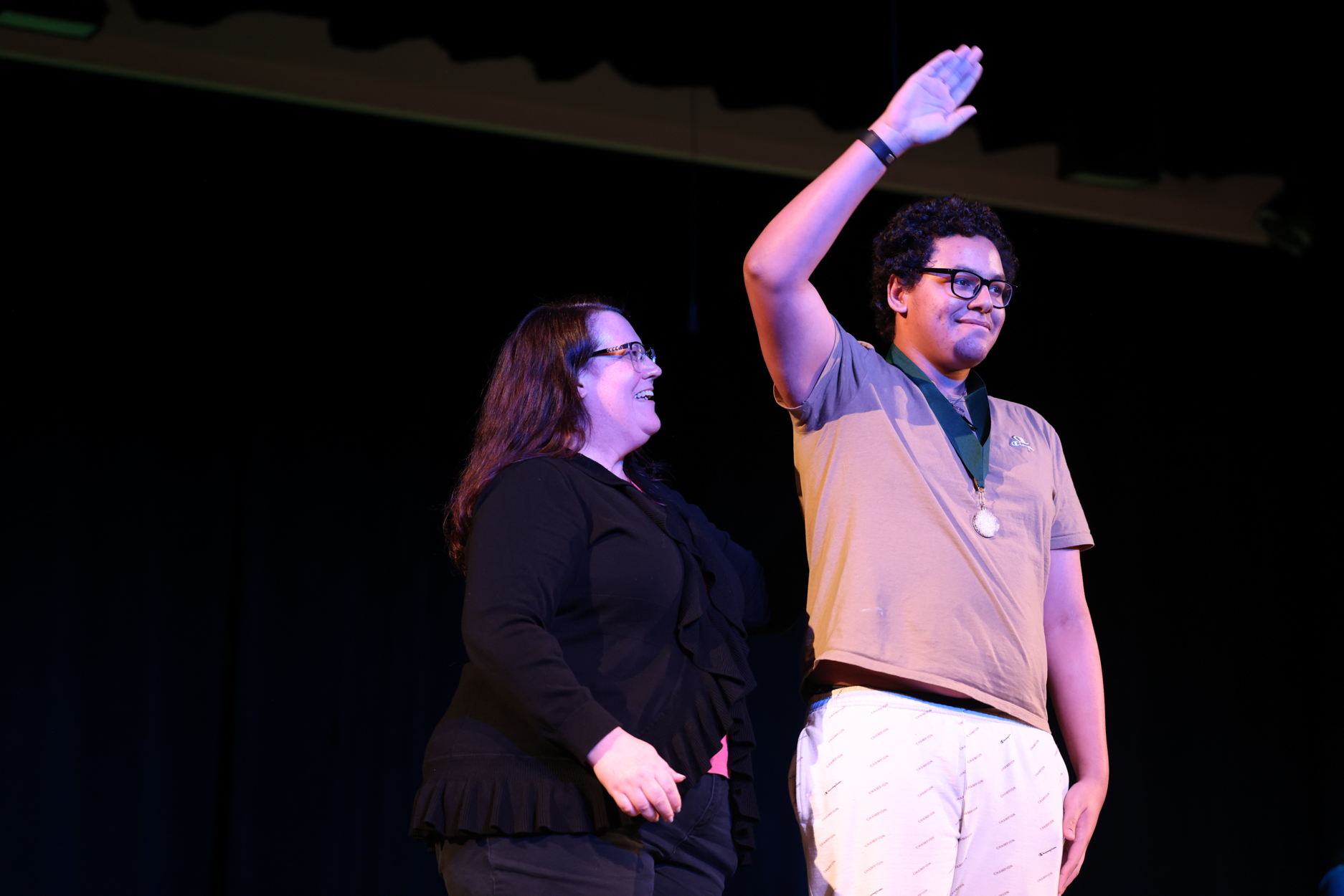 Staff members at Pattonville High School presented their MVP (Most Valuable Pirate) Awards to 121 students in grades nine through 12. Each staff member selected one outstanding student to receive an MVP medallion award during a special awards ceremony at the school on April 21.
The program was sponsored by the school's Renaissance program, which encourages a commitment to academic excellence based upon recognition of academic performance, attendance and citizenship. 
The following students crossed the stage and met the staff member that selected them as their nomination was read aloud to those in the audience.  
One student received their third MVP Award: Chloe Kerwin (Mrs. Katherine Korte).
Receiving their second MVP Award were: Charley Bennight (Ms. Kathleen Gengler); Lashae Brown (Mr. Jon Michael Brown); Elizabeth Burton (Mrs. Kim Stinnett); Loudin Cato (Ms. Jamie Jobe); Destiny Dobbs (Dr. Juliane Ross); Sierra Elking (Mrs. Julie Buchholz); Bryant Ewing (Mr. James Simpson); Macy Hanford (Mr. David Gross); Alexis Jenkins (Ms. Anetra Johnson); Hayden Langston (Mr. Denny McFarland); Jayla McCall (Ms. Paige Mueller); Max McFarland (Mrs. Laura Livesay); Yassine Ndiaye (Mr. Nathan Jones); Jessie Stark (Mrs. Janet Kuhn); Autumn Varner (Mr. Patrick Handrahan); Keilah Wilkes (Mrs. Margaret Hall). 
The following students received their first MVP Award: Meika Adams (Ms. Macie Baucum); William Ajanel Cuxeva (Ms. Eleanor Taylor); Alliah Allen (Mrs. Mary Favazza); Loai Almuttan (Ms. Terry Raby); Leland Bartlett (Mrs. Lauren Masnica); Kayla Blanche Relerford (Ms. Jessica Hayes); Julia Blankenship (Mr. Steve Smith); Dylan Bolter (Mr. Jeremiah Simmons); Sofia Boughton (Mrs. Stephanie Frerker); Justin Bowers (Mr. Kyle Hall); Olivia Bulger (Mrs. Carolyn Overton); Bridgette Burnett (Ms. Robin Woodrome); Adair Busse (Mr. Ken Lerdahl); Thomas Clifford (Ms. Erin Mulanax); Aileen Cortez Gomez (Mr. Joe Baird); Ja'nya Cruise (Ms. Haley Hunter); Paul Davey IV (Ms. Ashley Haar); Tony Davis Jr. (Mrs. Lisa Pirrung); Samantha Dayrit (Mr. Greg Adam); Christopher Dixon (Ms. Jennifer Raymond); Haley Edmonds (Mrs. Megan Kemper); Thomas Edwards (Mr. Justin Smiley); Valeria Escaray (Ms. Katie Funderburk);  Adrian Evans (Mrs. Sarah Guilfoyle);
LaMya Finch (Mr. Marcus Christian); Hannah Fisbeck (Mrs. Natalie Barge); Hayden Foust (Ms. Lisa Foust); Julissa Garcia Ortiz (Mrs. Mary Cross); De'mekay Gordon (Ms. Mary McCormac); Christopher Goubeaux (Mrs. Lisa Craig); Beckett Grabner (Mr. Robert Thompson); Caraline Guetschow (Ms. Heidi Lanham); Anya Guttmann Carroll (Ms. Racquel Manuel); Kimmea Hamilton (Mrs. Lauren Church); Emely Herrera Escobar (Ms. Reem Tahsin); Benjamin Holland (Ms. Danelle Emerick); Cora Hollis (Mr. Scott Hauser); Rachel Hopper (Mrs. Tracie Olson); Leliyan Hughes (Mrs. Marcia Mueller); Megan Hughes (Mr. Tom Crockett); Angel Jackson (Mrs. Carrie Cobb); Desmond Jackson (Mr. Ben Schamber); Aron Jackson (Ms. Judith Chabot); Matthew Jacobi (Dr. Anne Boyd); Josepha Kabula (Mrs. Jacquelyn Naylor); Janani Kamalakkannan (Mr. Gabe Faron); Joshua Kamande (Mrs. Rebecca Byrne); Chelsey Laughlin (Ms. Rebecca Hinnah); Qua'Shaun Lawson (Mrs. Juli Kobielusz); Madison Leckrone (Mr. Rob Simpson); Siquori Lee (Mrs. Valerie Green); Logan Lindsay (Mr. Kent Booth); Isaiah LoParco (Mr. James Frazier); Miranda Lopez (Mrs. Mariah DeLong); Jonathan Lopez Godines (Mr. Victor Fink); Elly Lu (Mr. Paul Rueschhoff); Joseph Mackenberg (Ms. Kelli Dornfeld); Daniel Mamrenko (Mrs. Anna White); Adrienne Mansdoerfer (Mrs. Danielle Adams); Wyatt Martin (Mrs. Anna Braswell); Ethan Massey (Mr. Officer Mooney); Ian McBride (Mr. Shaun Patrick); Alondra Mendez (Mr. Chris Broyles); Michele Mensah (Ms. Vicki Schaeffer); Lindsey Meyer (Mr. Alex Hubbs); Imani Miller (Mr. Michael Schuetz); Kennedy Miller (Ms. Alexa Kramer); Miles Moeller (Mrs. Jodi Moeller); Juan Morales Carmona (Mrs. Sarah Hollstrom); Christian Movick (Mr. Travis Harder); Simon Muthemba (Mr. Brandon Clark); Sarah Nelson (Ms. Lara Corvera); Lyric Noah (Mrs. Tina Rellergert);
Hannah Radican (Mr. Tracy Baker); Grace Radican (Mrs. Lauri Radican); Braden Rahn (Ms. Kimberly Walker); Aiden Randell (Mr. Matthew McClellan); Matthew Reese (Ms. Samantha Markowski); Nicholas Rice (Mr. Steve Edler); Katie Ridings (Mrs. Beth Moritz); Lucy Ridings (Mr. Gene Grimshaw); Lizbeth Salvador (Ms. Jacqueline Perales); Aryan Sankpal (Mr. James Dalton); Ashley Santel (Ms. Jessica Hale); Anthony Scherbring (Mrs. Jessica Wynn); Allison Schrumpf (Ms. Tomi Benney); Joseph Seals Jr. (Ms. Jacki Saxton); Wesley Sharpe (Mr. Brent Mueller); Jacob Silverstein (Ms. Emily McDaniel); Meredith Stroud (Mr. Ryan Brueckmann); Kylie Surratt (Ms. Jenell Franken); Amina Swinson (Ms. Karolyn Florence); Malik Taylor (Mrs. Holly Martinez); DeAndre Taylor (Mr. Dan Woehrmann); Alejandra Torres Gonzalez (Ms. MaryClare Stoker); Isabelle Tucker (Officer Mark Storer); Isabella Venezia (Ms. Madison Avery); Ravionna Walker (Ms. Tina Hahn); Madison Wegel (Mrs. Amy Adam); Isaac Whittinghill (Ms. Brooke Callan); Kamauri Younge (Ms. Teisha Ashford); Brooklyn Zagorac (Mr. Ken Lopinot).
Photo gallery: https://pattonvillesd.smugmug.com/2021-2022/HS-MVP-Awards/